Seasonal food is a monthly drawing series, depicting each month's newly available seasonal vegetables and fruits. These Illustrations serve as a guide and reminder, which local foods are in season and should be consumed primarily in order to reduce the environmental impact of our meals. 
The Illustrations are based on the seasonal calendar provided by the
German national centre for nutrition.
The calendar applies to Germany, as well as most of central and northern Europe. Typically Finnish seasonal fruit, vegetables and mushrooms are added in based on information provided by
https://www.arktisetaromit.fi/
. New Illustrations will appear on this page every month until June 2020.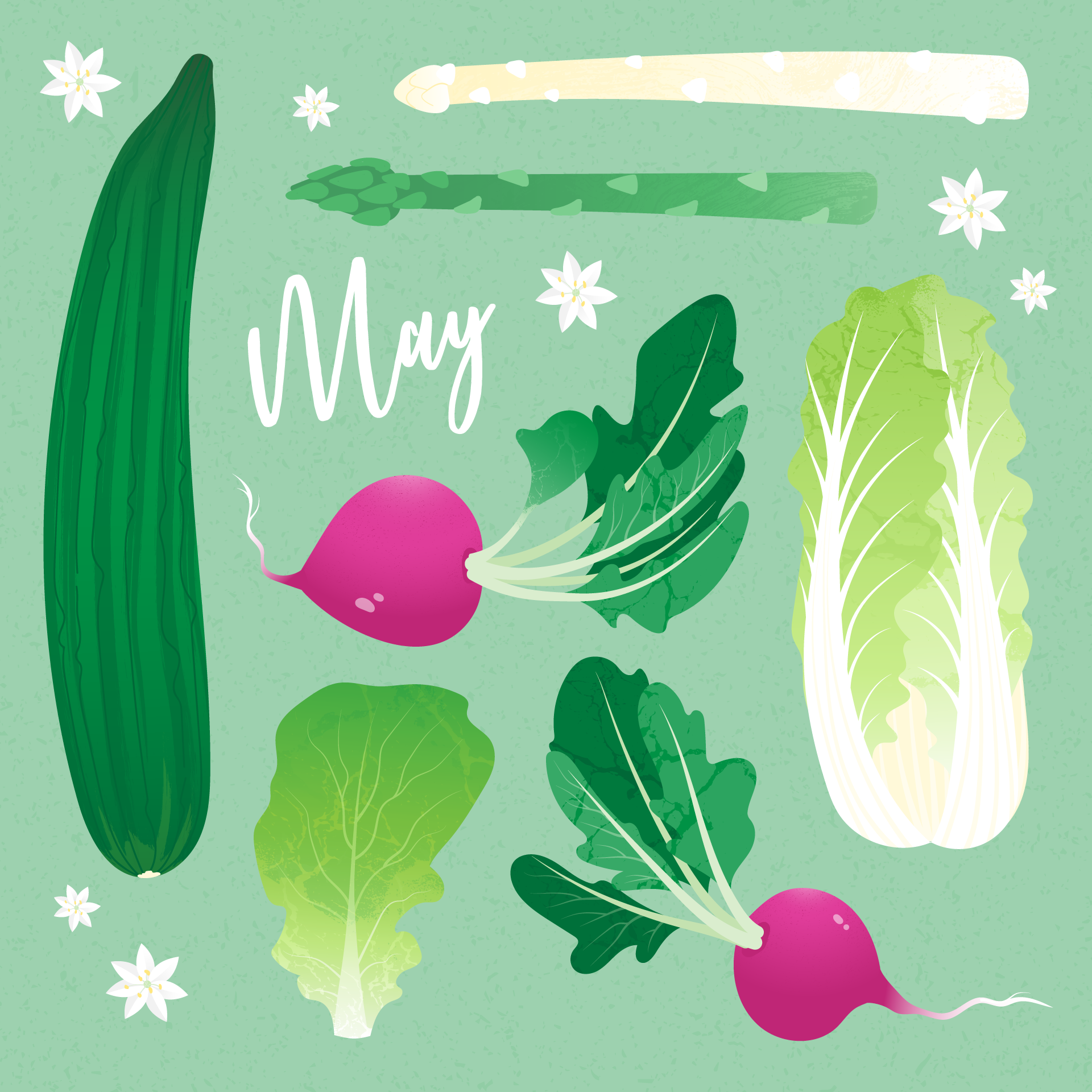 May brings a bunch of new seasonal vegetables into the mix. Fresh off the field are this month cucumbers, green and white asparagus, lettuce, radishes and chinese cabbage. If you live in one of the nordic countries, you may come across fields of beautiful white windflowers while walking through the forest.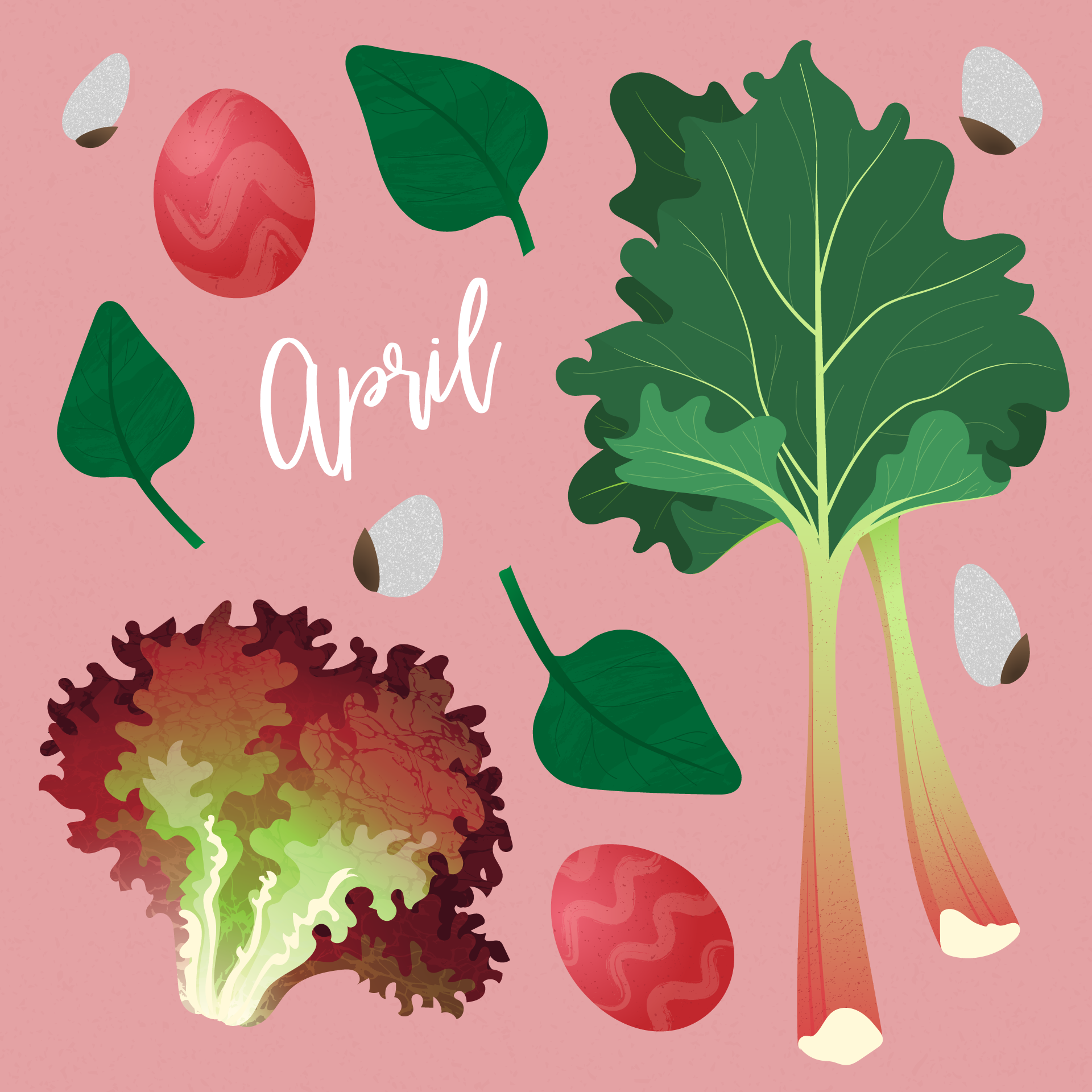 Finally we made it through the four months of preserved foods and we are seeing the first freshly harvested vegetables of the season. Towards the end of April you can find fresh Lollo Rosso lettuce, spinach and rhubarb. If you're lucky you may discover an easter egg or two between the veggies.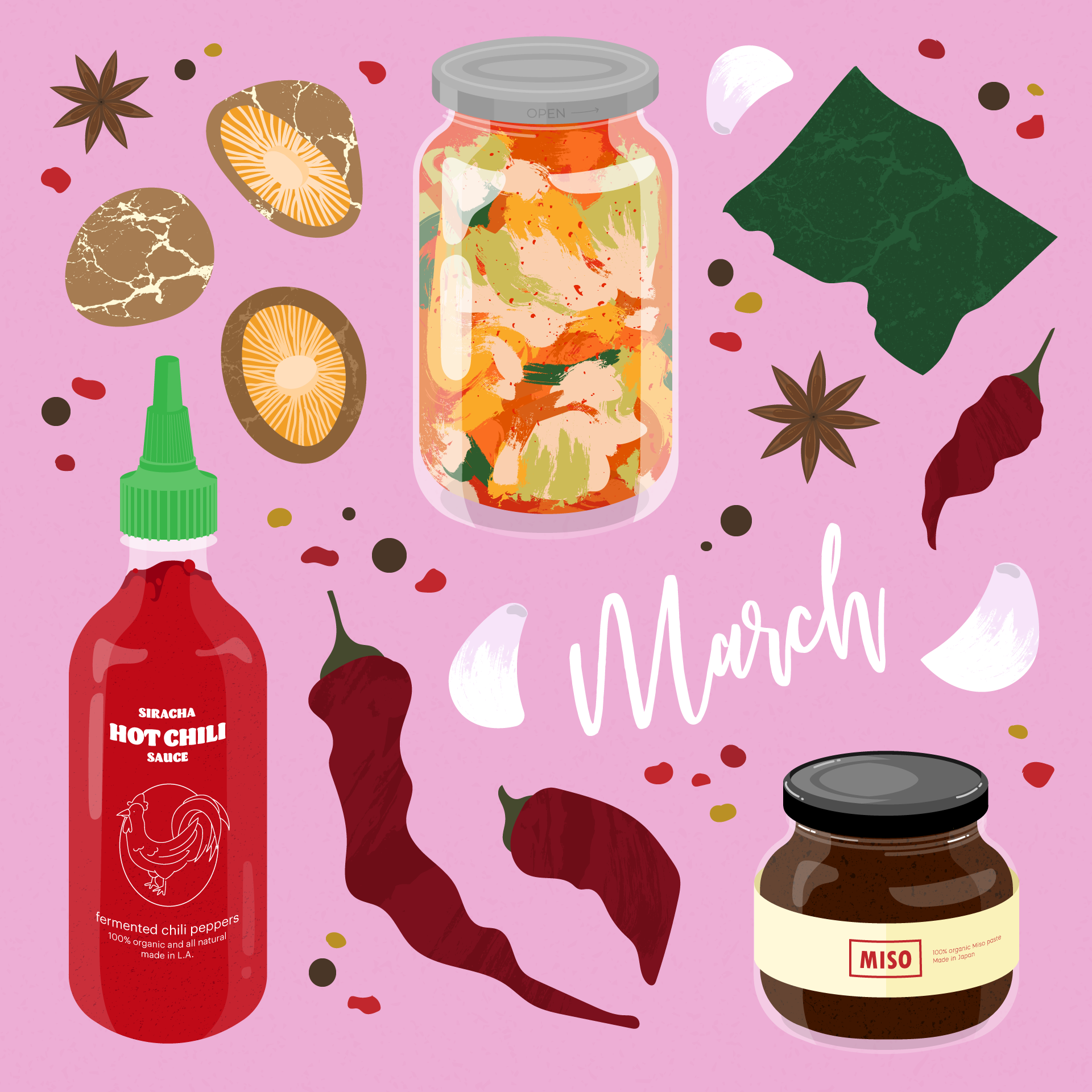 The last month of preserved foods for the winter season is finally here. This time we focus on asian fermented and preserved foods. Delicious specialties include Kimchi, Siracha, Miso paste and a variety of dried goods, such as Shiitake mushrooms, chili, garlic, seaweed, pepper corns, chili flakes and anise. 
We are still working with preserved foods in February. This month's theme is German preserves - or basically anything you would find in my Grandma's pantry. Classics include pickles, pickled onions and red beets, mustard seeds, sauerkraut (fermented cabbage), horseradish paste, as well as homemade apple sauce, red current jam and berry schnapps.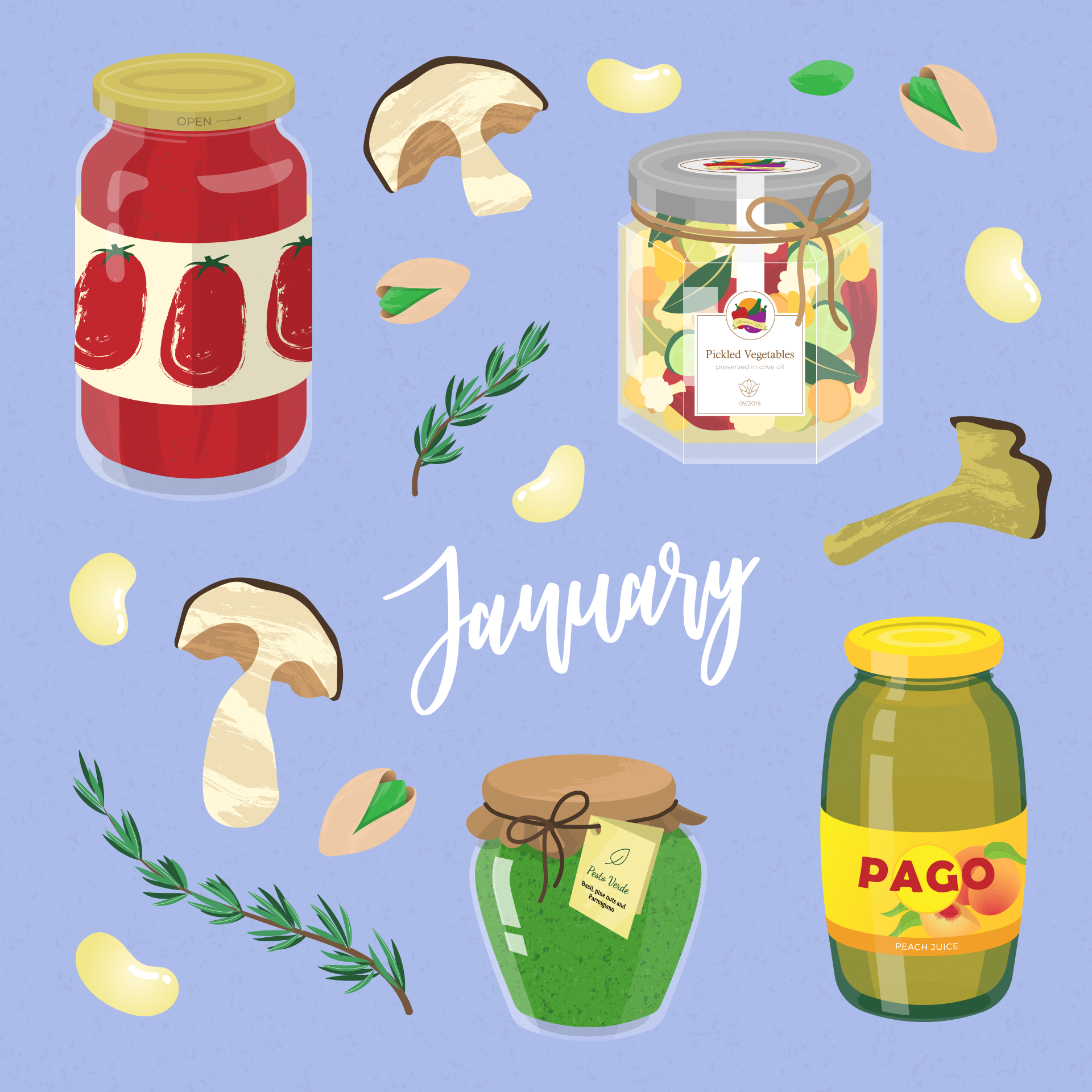 January offers another round of delicious preserved foods. This month's theme is italian preserves and features things like tomato sauce, pickled veggies, pesto, peach juice and dried goods, such as mushrooms, pistacchios, beans and herbs.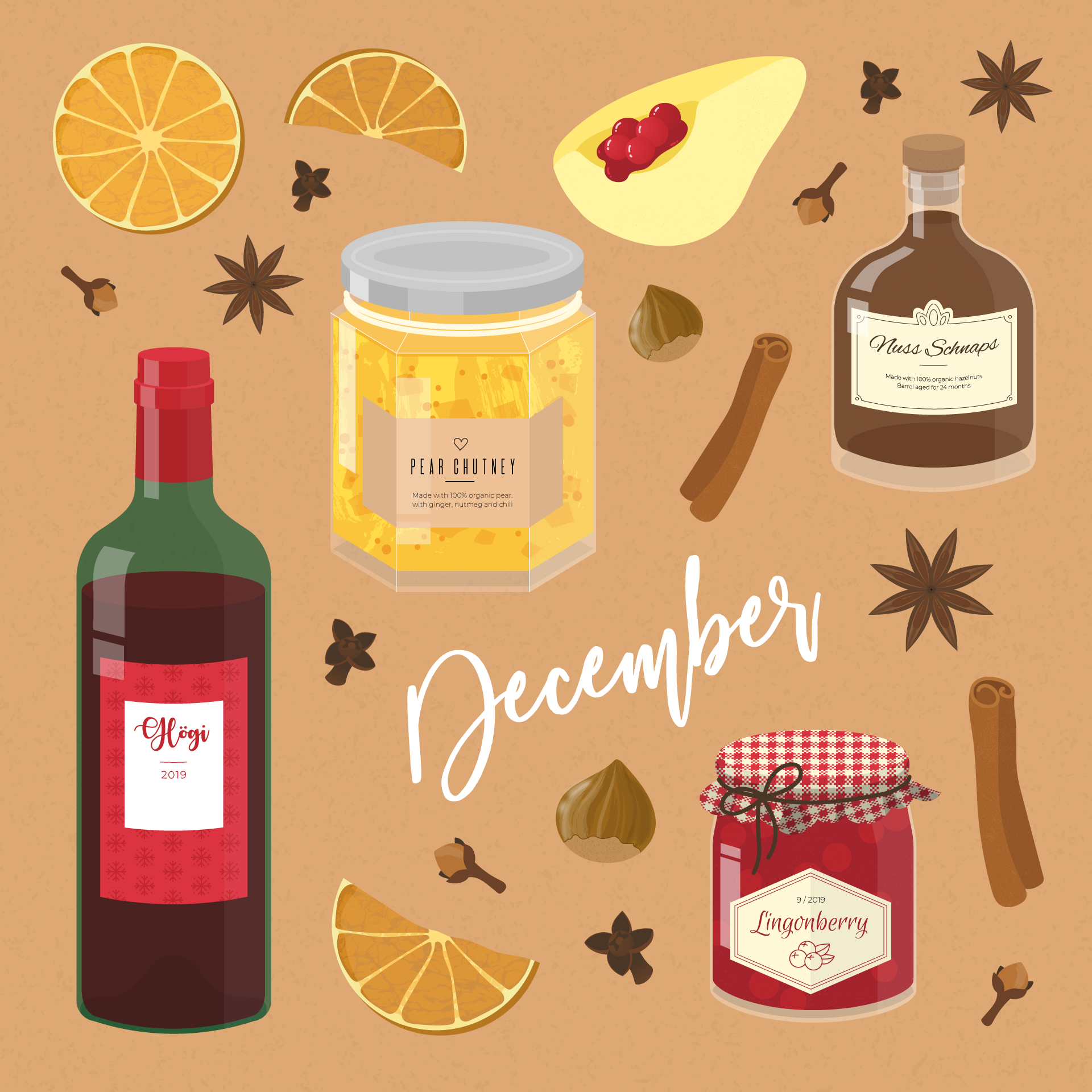 The season for newly harvested veggies and fruits is officially over in Central and northern Europe. Time to dig into all those delicious preserved foods.

This month the theme is Christmas foods, featuring dried oranges, Christmas spices like cinnamon, cloves and anise, pickled pear and pear chutney, lingonberry jam, glögi - or mulled wine - and my grandma's nut schnapps.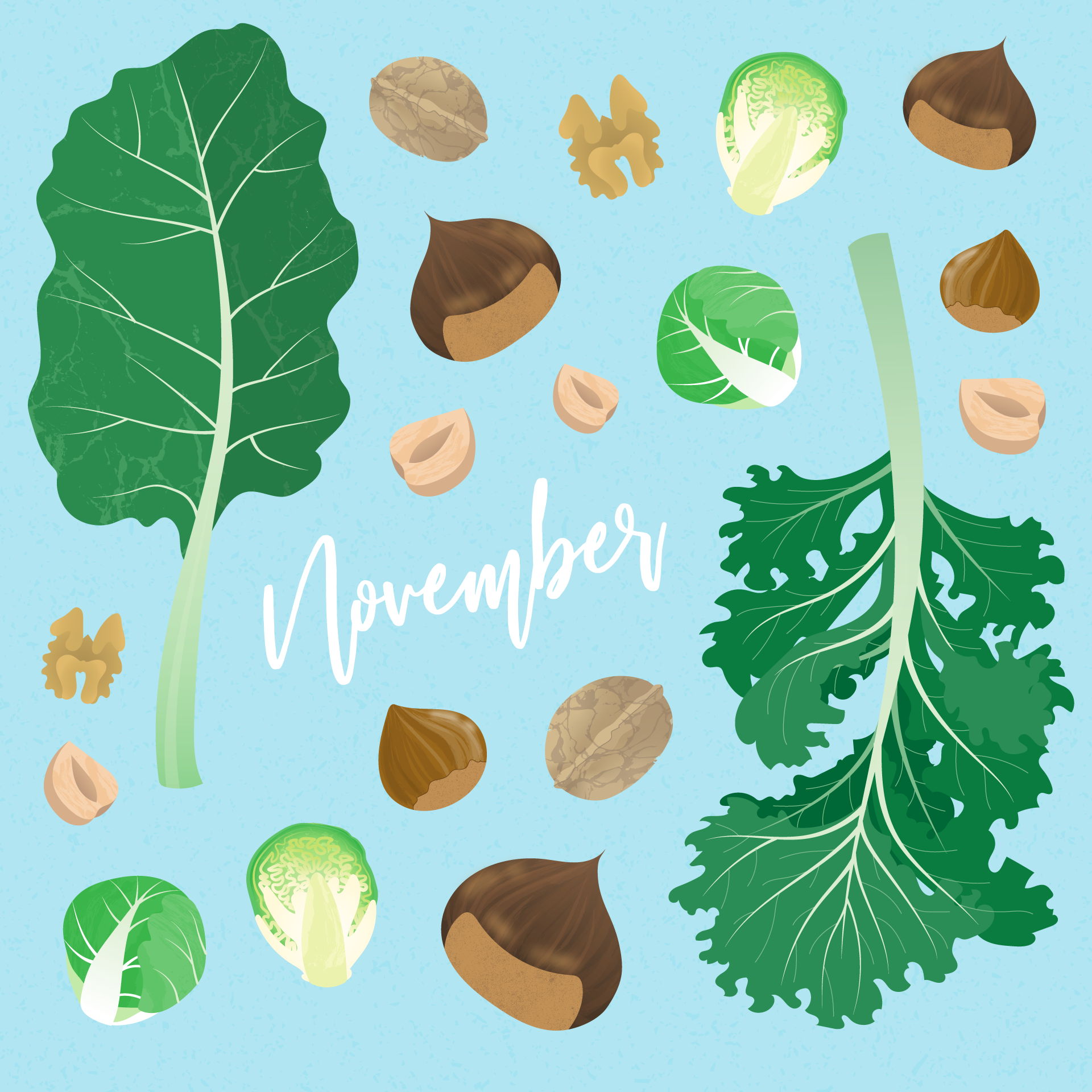 November is the last month before the long winter, where new vegetables are coming in season. You can find some leafy greens, like collard greens and kale, as well as brussel sprouts. It is also nut season, with new hazelnuts, walnuts and chestnuts coming fresh off the trees. 
Until march or april of the next year, there are no new seasonal vegetables and fruits ripe for harvest, unless they are grown in greenhouses or imported from abroad. Now comes the time to consume all preserved, fermented and well stored food.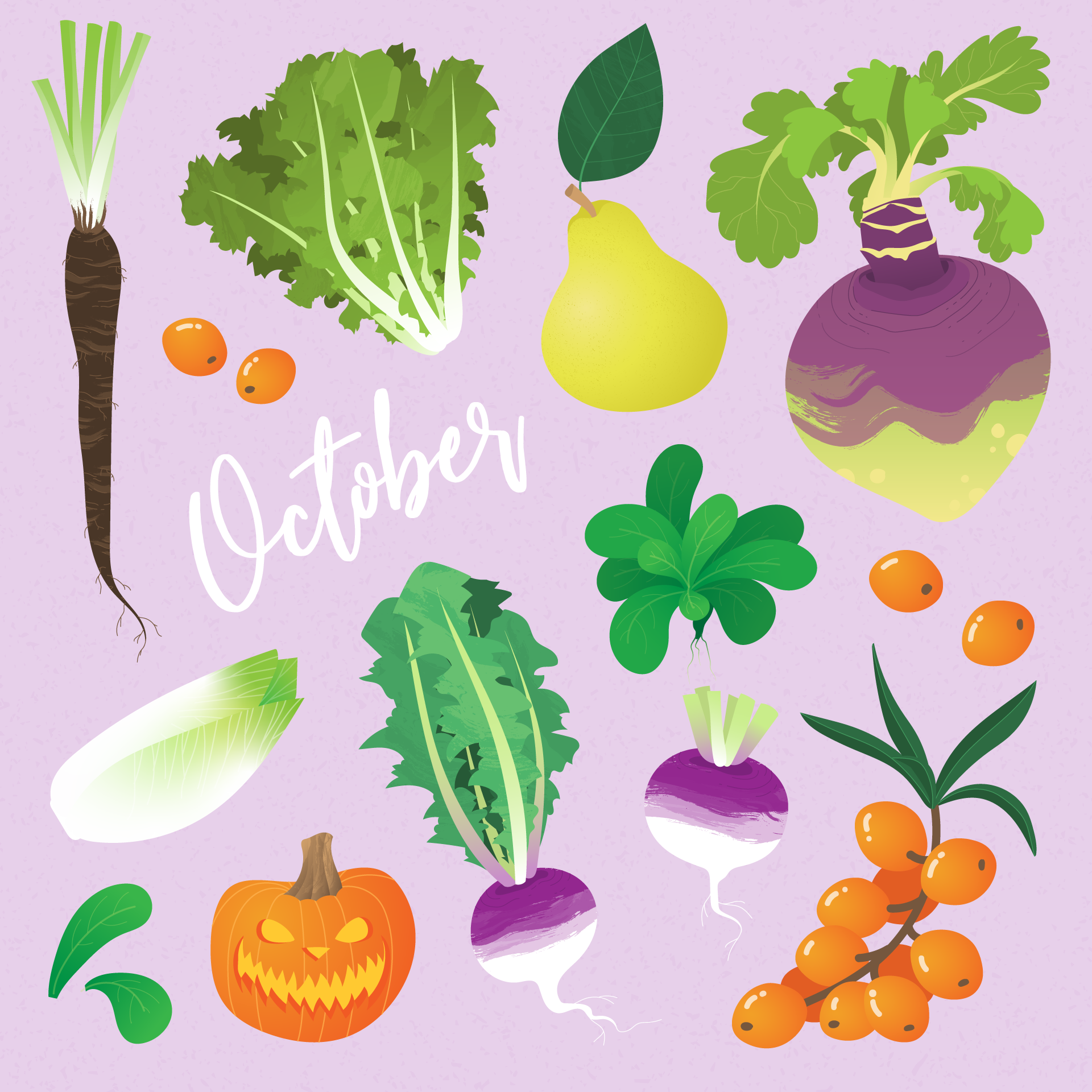 October's seasonal fruit and vegetables are full of orange and purple colors. You can find fresh root vegetables, such as swedes, turnips and black salsify. Fresh greens, like chicoree, endive and lamb's lettuce are available. Especially around the baltic sea, you can find the superfood sea buckthorn, as well as quinces. Occasionally you might stumble across the classic creepy halloween pumpkin.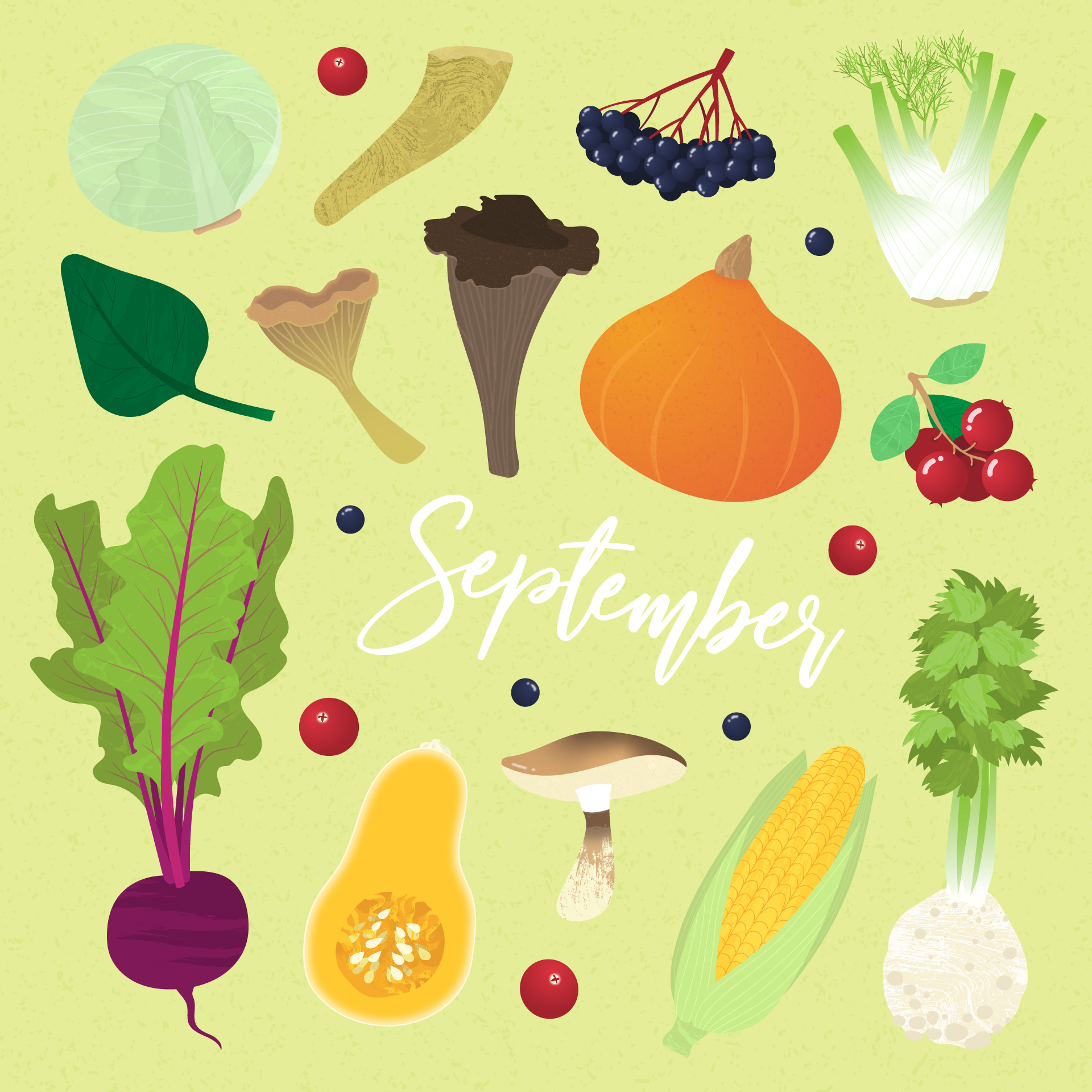 September marks the height of the wild mushroom season. You can find fresh trumpet chanterelle, horn of plenty and slippery jack in the forest. Additionally pumpins are coming in season, with different varieties, such as butternut squash and hokkaido. Root vegetables like beetroot, celeric and horseradish can be combined with spinach, white cabbace, sweet corn and fennel. Next to the mushrooms you might stumble across some wild lingonberries, cranberries or elderberries.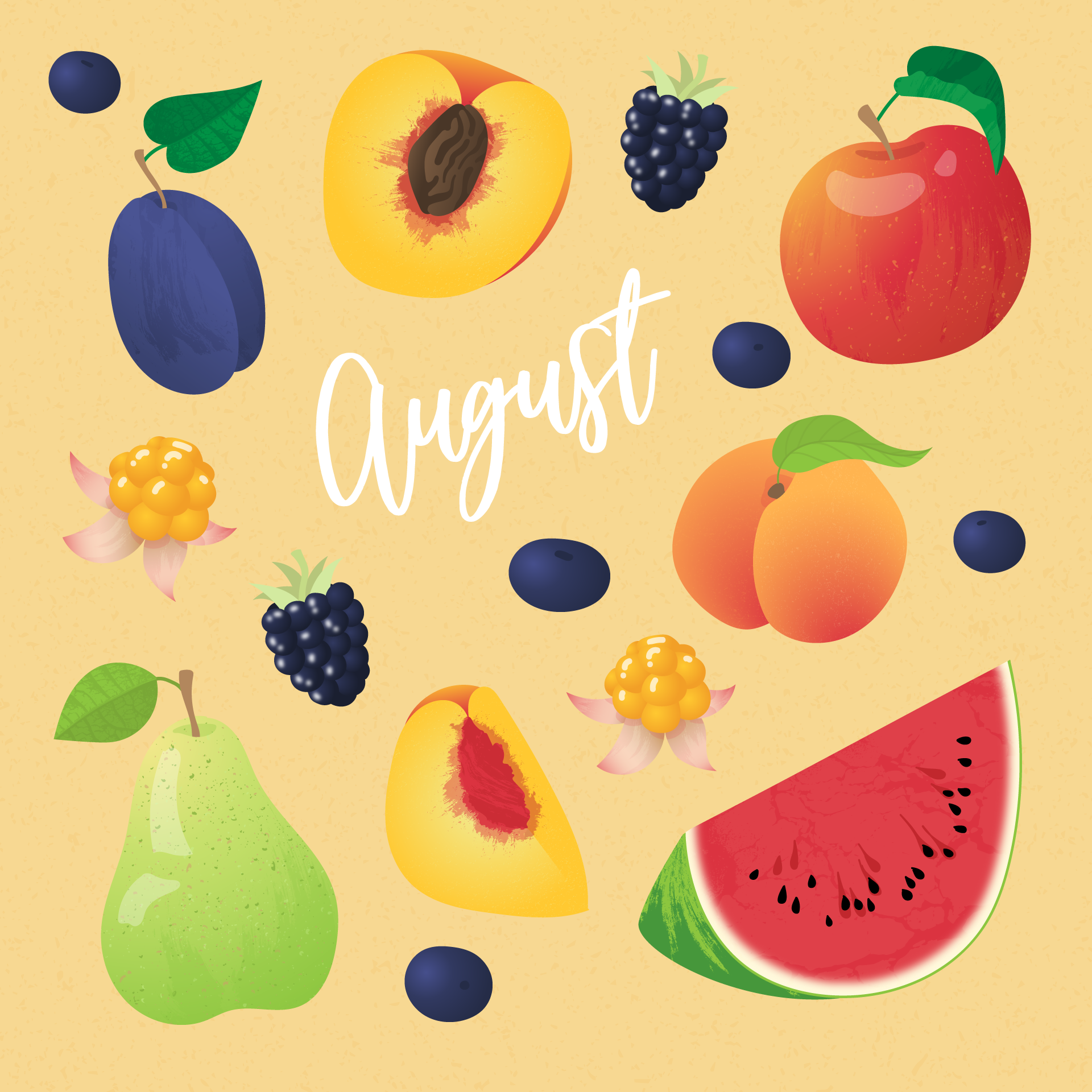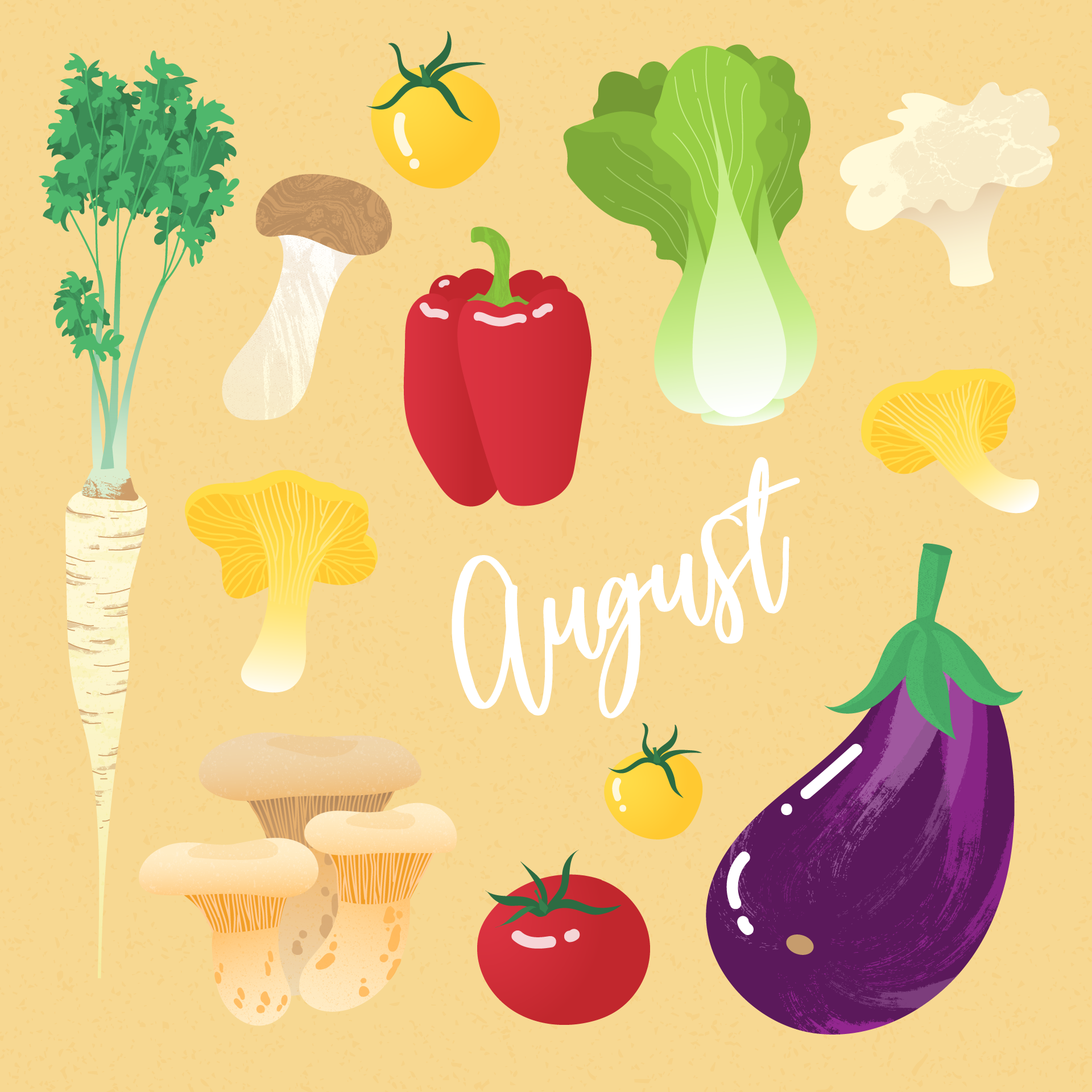 August is another month so full of new seasonal food, that it exceeded the frame of one image. Plenty of fruits can be harvested ripe, like apples, pears, peaches, nectarines, watermelon and plums. In the forest you can find fresh crowberries, blackberries and cloudberries. 
At the same time the wild mushroom season is starting, with chanterelle, northern and saffron milk cap, sheep polypore and matsutake. Other vegetables include parsnips, pak choi, bell pepper, tomatoes and eggplant.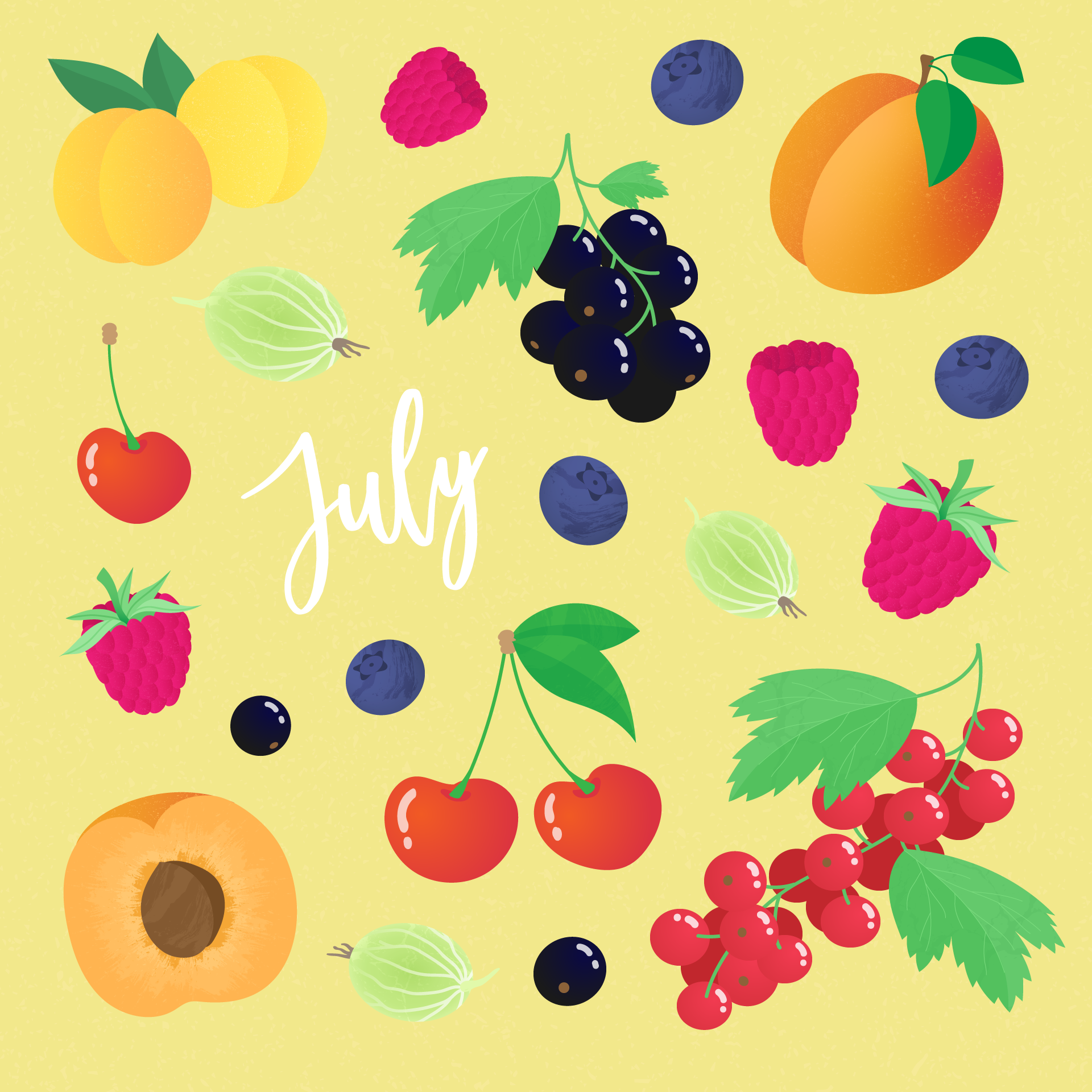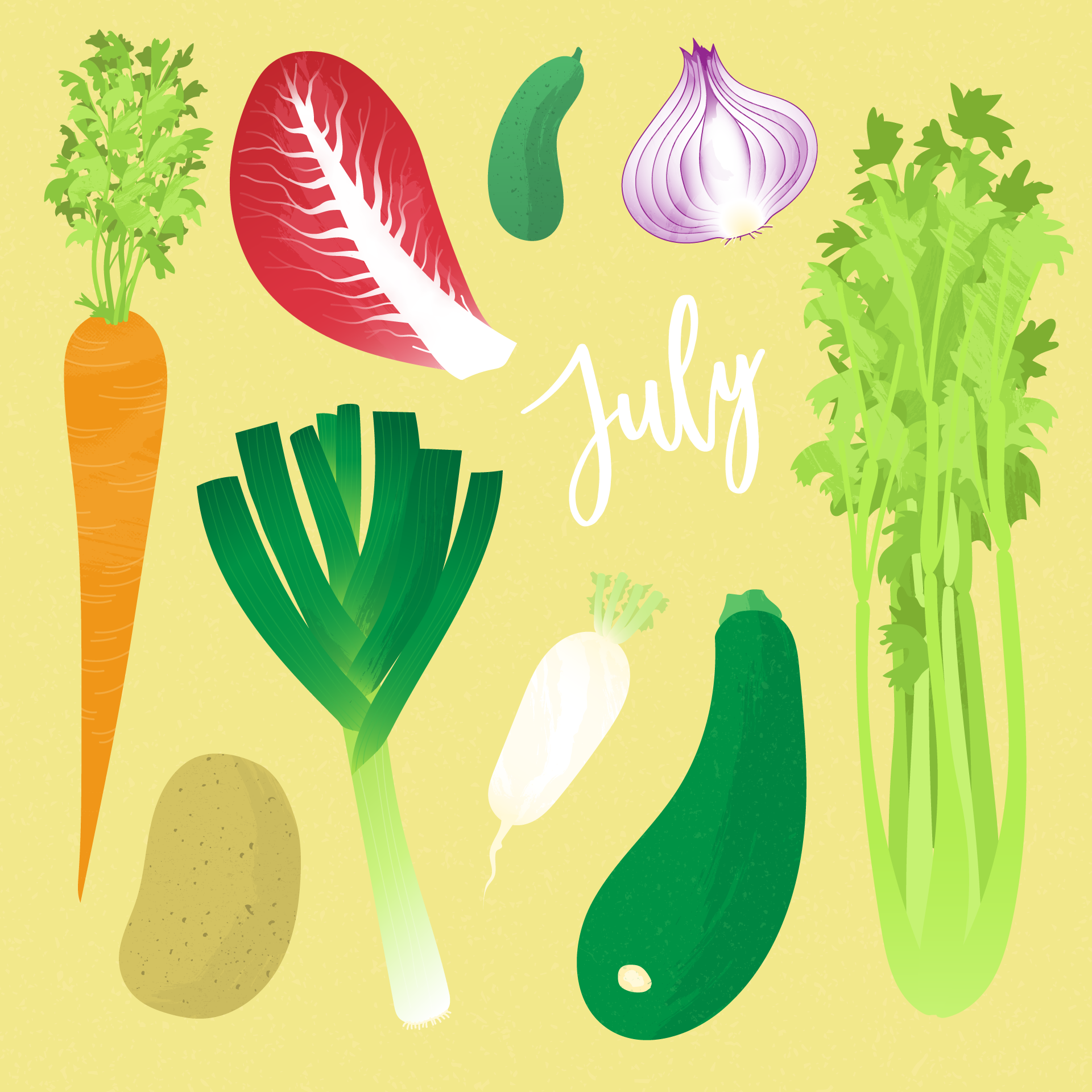 July is bursting full of new seasonal vegetables and fruits. You can make a great fruit salad, using fresh fruits like apricots and mirabelle plums, raspberries, blueberries, gooseberries, sour cherries, as well as red and black currant.
Plenty of vegetables are freshly available too, like radishes, carrots, zucchini, celery, potatoes, lollo rosso, cucmbers and onions.